The Celebratory Society
This idea comes from a convergence of five thoughts or moments.  And I will admit upfront that it is the worst sort of self-indulgence that bubbles up in the blogging world, but hopefully my explanation will put it in perspective.
First: I was feeling blue in the hormonally-induced sense of the word and told Josh that I was feeling needy before he left for work.  I think we all get this way from time to time–there are surfeits of love and dry spells–and it's also perception.  There are times when I am probably standing in a surfeit of love and I think it's a dry spell and other times when there is an actual dry spell, but I don't notice or it doesn't affect me.
But I woke up feeling lonely and isolated and awkward in my own skin.  Spiritual Pedicures had a lovely post about this a few months ago that I bookmarked and returned to read a few times, just because she is so brutally honest in it.  And isn't that the only way we really ever make a difference–with blunt honesty?  Placing our heart on the screen or figuratively in another person's hands?
Second: I was invited this week to participate in a festschrift for an old professor who died, the one I had written about in this old post on not saving up the kind words we have for each other for a funeral.  I wasn't familiar with the term festschrift so I Googled it.  It's a book honouring a person written and presented to them during their lifetime.
Apparently, there is another term, gedenkschrift, which is the same concept, except written after the person has died.  Though the email called it a festschrift–and I think it's fitting despite getting the term wrong–because I do think that saying kind things to another person while they're alive does much more good than doing it after they're gone.
A festschrift is usually given to the person on an important occasion such as their retirement, and includes essays about the person and their work.  This particular festschrift is a collection of poetry and I love that it follows who he was–a poet–rather than using the traditional academic format (and yes, I do intend to contribute because it's a nice way to say goodbye to someone whom I never got a formal chance to say goodbye).  I hope people write blog posts rather than any printed medium if I get my own formal festschrift in the future.
Third: Back in 1981, Carol Burnett and Charles Grodin cooked up a friendliness campaign.  Their idea was a formal movement to get people to be kind to one another without it falling into the syrup-y trappings of Pollyanna.  That this shouldn't conjure up images of prancing unicorns with rainbows shooting out their anuses.  As Grodin said in the Modesto Bee, "I think the issue of how people treat each other is the most important issue we have."  They don't preach hugging people on the street; it is simply about choosing kindness.
And in light of the Golden Rule of doing onto others, when we each face those feelings of loneliness discussed in the first thought and would thrill to receive the festschrift from the second thought, it seems silly not to partake in the third thought.
Fourth: I received the most beautiful letter from a friend.  In honour of her 30th birthday, she is sending out 30 cards to 30 people to tell them how much they mean to her.  I sobbed reading it.  I cannot even explain how incredible it was to receive it.
Fifth: Max died and he will never get to read the beautiful posts that went up around the blogosphere.  These posts are meant for Vee–to spread the news so she has support, but also to remember this amazing writer and artist.  And I really wish he could have read them too.
So, after these five thoughts, what do I propose?  Nothing short of an informal online festschrift discussing your emotional achievements, your writing prowess, the way you've touched another person.  Done in a kind, orderly way.
Because I don't think I'm the only person who can see the good in both reaching out to another person because they've given us an easy way to tell them how much we care about them nor the only person who would love a list to read when I am in the throes of the blues.
So this is how it works if you'd like to participate:
This project is open to everyone in the blogosphere–any person who has a blog, regardless of whether or not you know mine.  This project is open indefinitely.
Put up a post on your site explaining that you are participating in the Celebratory Society and what it is.  Please to link to this post as an explanation and feel free to grab the icon I made below by getting the code here.  I also left sample post language for your post if you're struggling to figure out what to say, but want to participate.  Make sure that people can leave comments on your post (I know this sounds silly, but there is always a person who adds themselves to the IComLeavWe list even though they have the comments inadvertently turned off on their blog).
Return here and add the url to the post (not the main url for your blog, but the permalink to your post) to Mr. Linky below.  Your regular readers will see your post on your blog regardless.  Others who are participating will be able to use the list below to find new blogs. 

People who do not link to an actual blog post and instead link to the main url for their blog will be bumped off the list

.
Make the commitment to visit and comment on at least 5 other blogs on the list below.  This project has the potential to be very frustrating for some if they add themselves, leave kind words for others, and don't have the same reciprocated.  In other words, everyone wants to receive kindness, but not everyone wants to take the time to give it.  Please don't take without giving.  And please make sure you visit blogs you've never been to before, take some time to read their posts, and give them some thoughtful feedback on their work or design.
Make the post easily accessible on your blog.  The point is to create a single post that people can add to within the comment section indefinitely.  So place a link to your post in your sidebar or add it to the about page–in other words, make it easy for other people to find.
I am well aware that a colleague generally sets up a festschrift for the academic, and not the academic itself.  And in a perfect world, I would arrange a more modest Mutual-Exchange Celebratory Society.  But trying to streamline this, I am instead presenting it this way.  And I have no qualms admitting how self-indulgent this is.
Members of the Celebratory Society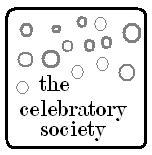 Consider this my open post for the Celebratory Society, as the first member of the group.  Tell me whatever you want to say about my blog or our interactions.