The 81st Circle Time: The Show and Tell Weekly Thread
Show and Tell is wasted on elementary schoolers. Join several dozen bloggers weekly to show off an item, tell a story, and get the attention of the class. In other words, this is Show and Tell 2.0. Everyone is welcome to join, even if you have never posted before and just found out about Show and Tell for the first time today. So yank out a photo of the worst bridesmaid's dress you ever wore and tell us the story; show off the homemade soup you cooked last night; or tell us all about the scarf you made for your first knitting project. Details on how to participate are located at the bottom of this post.
Let's begin.
Every winter, I watch two movies: About a Boy and Love, Actually.  They are as close as I get to a Christmas movie (I've never even see It's a Wonderful Life or A Christmas Carol–horror!).  They are not Josh's favourite movies, therefore, I usually watch them when I know he'll be working late.
And then it hit me this morning–this would be the first year watching Liam Neeson mourn his fictional wife in the film after he lost his actual wife, Natasha Richardson, this year.  And suddenly, I felt very awkward for some inexplicable reason.
I was complaining to a friend yesterday over coffee about something hurtful that was said to me this week in regards to infertility and pregnancy loss.  "Mel," my friend said, "the woman was just feeling awkward about her news.  She had to tell you about the latest addition to her bounty of children, and she felt fucking awkward having to say it to you so she got oral diarrhea."
Which led us into a conversation about a woman who lost her husband and the stupid things people had said to her after the loss due to the speaker's own discomfort with death.  "But it's not that hard.  You ask them if they want to talk about the person.  You ask them if you can do specific things for them.  You sit and listen.  You tell them that you're going to bring over tea and ice cream after the kids have gone to bed and you're going to hear her memories and look at pictures and help her grieve.  Or if she is the type of person who wants to be left alone, you send a card explaining that there is no expiration date for the shoulder to cry on."
And yet, here I am, awkwardly shifting from foot to foot in front of the video case, not really sure what to say to Liam Neeson.  To observe that grief on film knowing that he also went through it in real life.  It's stomach twisting.
It gave me more sympathy for the woman with oral diarrhea.
Off-topic, because I had meant to make my kum-kum my show and tell today for A at Are You Kidding Me who was the recipient of a kum-kum email discussion last night, here it is without further ado.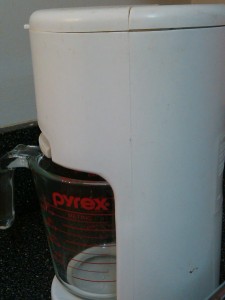 That is a two-cup pyrex pitcher to give you a sense of size.  It can boil a little under 2 cups of water at a time and then you push a button and the water comes out.

What are you showing today?
Click here or scroll down to the bottom of this post if this is your first time joining along (Important: link to the permalink for the post, not the main url for your blog and use your blog's name, not your name. Links not going to a Show and Tell post will be deleted). The list is open from now until late Friday night and a new one is posted every week.
Other People Standing at the Head of the Class:
Want to bring something to Show and Tell?
If you would like to join circle time and show something to the class, simply post each Wednesday night (or any time between Wednesday morning and Friday night), hopefully including a picture if possible, and telling us about your item. It can be anything–a photo from a trip, a picture of the dress you bought this week, a random image from an old yearbook showing a person you miss. It doesn't need to contain a picture if you can't get a picture–you can simply tell a story about a single item.

The list opens every Wednesday night and closes on Friday night

.
You must mention Show and Tell and include a link back to this post in your post so people can find the rest of the class. This spreads new readership around through the list.

This is now required

.
Label your post "Show and Tell" each week and then come back here and add the permalink for the post via the Mr. Linky feature (not your blog's main url–use the permalink for your specific Show and Tell post).
Oh, and then the point is that you click through all of your classmates and see what they are showing this week. And everyone loves a good "ooooh" and "aaaah" and to be queen (or king) of the playground for five minutes so leave them a comment if you can.
Did you post a link and now it's missing?

: I reserve the right to delete any links that are not leading to a Show and Tell post or are the blogging equivalent of a spitball.