Ungaming and Comment Chaining Part 2
Directions: answer the question in the comment section.  Then leave a comment on the blog of the commenter directly before you (so it's a chain.  #2 comments on #1, #3 comments on #2, etc.  If the commenter above you didn't leave an address, just go one above that.  The point is to find new blogs/leave a comment–not stress).  The first person who comments gets a free ride and does not need to leave any comments.  The last person who comments gets…screwed.  I will need to find something for the last commenter.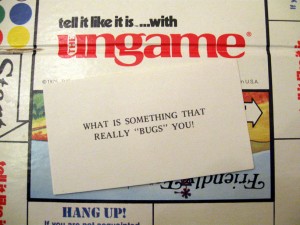 Please ignore the unnecessary "quotation marks" in the question.  Apparently, the makers of the Ungame are frightened that you'll think they are speaking of spiders and earwigs.