Use Bitly to Gather Valuable Information About Your Content
Let's say that you worked for six hours cooking a labour-intensive pot of French onion soup. You took your time softening the onions, used the best stock, and allowed it to simmer in your kitchen, filling the air with the velvety scent of garlic and butter.
Would you ladle that soup into bowls, place them on the table, and walk away without seeing anyone's reaction to your creation?
If your answer was "no" — and I can't think of many cooks who would ditch a meal after all of that chopping and sauteing — then we need to talk about why you're leaving behind valuable information on the table about your content after its creation.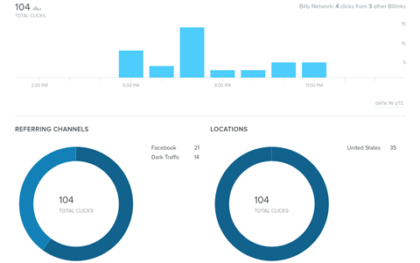 Creation, Distribution, and Reaction
Creating content is only the first part of what amounts to a three-part process: creation, distribution, and reaction. Creation is straightforward. It's writing long-form articles, displaying ideas through infographics, or generating video tutorials. Distribution is also straightforward: You post your creation on your chosen platforms including your own site as well as other social media spaces where your intended audience gathers.
But many content marketers are leaving behind valuable information during the reaction phase. They're looking at the stats provided by the platforms — such as Facebook likes and shares or Twitter views — but they're not looking at the time and referral-specific information generated by tools like Bitly.
What is Bitly?
You need to get Bitly into your content marketer toolkit because it will make gathering useful information during the reaction phase a cake walk.
Bitly is commonly known as a link shortener. You feed the longer URL into the tool, and it returns a shortened URL that can be customized and used on social media sites to save space.
But it's also a link management platform that can follow a link across the Internet, providing concrete information that can tell you what resonates with your audience and when they're most likely to interact with your content.
What Can Bitly Tell You?
After a shortened link is generated and used on the Internet, Bitly starts tracking referral spaces including click throughs via email, social media platforms, and Internet sites. It tells you the total number of people who clicked the link as well as the time they interacted with your content.
Within a short amount of time, you'll begin seeing patterns; which days of the week you are most successful in getting views, what type of content resonates the most with your intended audience, and which content isn't worth the effort in producing. Moreover, you'll understand where people are accessing your content, and you can tailor your future content to best fit the device.
Tailoring Specific Engagement
There are general best practices for social media posting times. Twitter and Facebook are most active right after lunch while Pinterest shines during the evening hours. While guidelines are a helpful starting point, it's up to each individual content marketer to determine the best time of day to reach their intended audience.
Just as the home chef keeps in mind the individual tastes of their eaters, substituting ingredients or tweaking recipes to make their meals a hit, the seasoned content marketer realizes that their approach needs to be tailored for their specific site and audience. Bitly makes it easy to find what your audience devours and when they want to consume it.
You're spending a lot of time cooking up new content. Don't leave it to chance that it will reach your intended audience. Instead, make sure your audience is always hungering for more.