#MicroblogMondays 161: People are Magic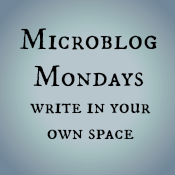 Not sure what #MicroblogMondays is? Read the inaugural post which explains the idea and how you can participate too.
*******
Kelly Wickham Hurst recently said something that stuck with me: "People are magic." She was talking about that human impulse to insert yourself into someone else's life, somehow at the right time, and help. But, of course, it could go the other way, too. Magic is often used to trick the senses, misdirect your attention.
That is the thought that came to mind as I read this story about the start of the BRCA1 research. It is incredible that this project, which had an inauspicious start, led to knowledge that has potentially saved life. It's not a long piece, but it is the best example of people are magic — both in the good and bad sense — in a single story.
Read it, but don't ruin the twist for anyone else in your comment.
And tell us about a moment of magic that someone brought into your life.
*******
Are you also doing #MicroblogMondays? Add your link below. The list will be open until Tuesday morning. Link to the post itself, not your blog URL. (Don't know what that means? Please read the three rules on this post to understand the difference between a permalink to a post and a blog's main URL.) Only personal blogs can be added to the list. I will remove any posts that are connected to businesses or are sponsored post.