#MicroblogMondays 159: Acknowledging the Date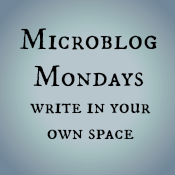 Not sure what #MicroblogMondays is? Read the inaugural post which explains the idea and how you can participate too.
*******
There are some dates you want to remember and mark because they bring you personal happiness: your birthday, anniversary, special accomplishments. There are other dates that you wish you could forget but you can't because they were life changing events: death dates and other losses.
There are dates that you swear you'll never stop marking that sometimes slip away with time. Our miscarriages were like that. I couldn't tell you the dates anymore except for one, and that's only because it occurred the day before a Jewish holiday, which makes it somewhat easier to keep in mind, though only the Hebrew date and not the American one. The others pass on the calendar without acknowledgment even though I thought I would never forget those dates.
But there is something about September 11th that pokes my back and says, "Remember me." It doesn't matter that it isn't a neat milestone like 10 years or 15 years or 20 years after the fact. Even at the oddball 16-year mark, it demands that you notice the date on the calendar.
Are you doing anything to mark the day?
*******
Are you also doing #MicroblogMondays? Add your link below. The list will be open until Tuesday morning. Link to the post itself, not your blog URL. (Don't know what that means? Please read the three rules on this post to understand the difference between a permalink to a post and a blog's main URL.) Only personal blogs can be added to the list. I will remove any posts that are connected to businesses or are sponsored post.