#MicroblogMondays 156: Looking Ahead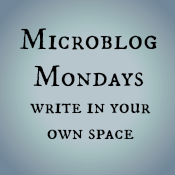 Not sure what #MicroblogMondays is? Read the inaugural post which explains the idea and how you can participate too.
*******
If you are not doing anything for today's eclipse, don't despair. You get another chance on April 8, 2024. That's only seven years away.
It's traveling through places that I would go to even if there wasn't an eclipse, such as Montreal or Newfoundland. But it's also going to be much closer to home, passing through sections of Pennsylvania and New York.
It helps me to feel okay with missing out on something knowing that it will happen again in the future and I'll get a second chance to do it right. I know that's pretty optimistic believing the world will still be here seven years from now. But crossing fingers, right?
Do second chances help you to feel okay about missing out on something the first time?
*******
Are you also doing #MicroblogMondays? Add your link below. The list will be open until Tuesday morning. Link to the post itself, not your blog URL. (Don't know what that means? Please read the three rules on this post to understand the difference between a permalink to a post and a blog's main URL.) Only personal blogs can be added to the list. I will remove any posts that are connected to businesses or are sponsored post.