#MicroblogMondays 153: The Things We Don't Notice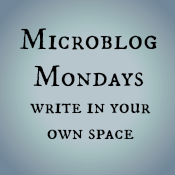 Not sure what #MicroblogMondays is? Read the inaugural post which explains the idea and how you can participate too.
*******
I am about to blow your mind. (Unless you already knew this. In that case, you're about to stare at your screen, incredulously.)
I asked the Wolvog the date. He glanced that his phone and told me the date. I asked him how he knew it without opening the calendar app, and he pointed out that the ICON IS ANIMATED.
Yes, I had to scream that.
The icon itself shows the date. Look at it. Every day the icon changes. Same with the Clock app. Look at it! The little hand is going around. I have never noticed that the icon moves, but now I can't stop staring at it. It makes me wonder what else I'm missing.
What cool thing did you learn recently?
*******
Are you also doing #MicroblogMondays? Add your link below. The list will be open until Tuesday morning. Link to the post itself, not your blog URL. (Don't know what that means? Please read the three rules on this post to understand the difference between a permalink to a post and a blog's main URL.) Only personal blogs can be added to the list. I will remove any posts that are connected to businesses or are sponsored post.