#MicroblogMondays 149: Fireworks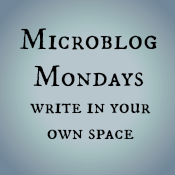 Not sure what #MicroblogMondays is? Read the inaugural post which explains the idea and how you can participate too.
*******
Our town set off their fireworks over the weekend. Why do we set off fireworks to mark the day? Aren't the fireworks supposed to be recreating the noise and intensity of battle without the danger? Clearly the people who fought in the war are long gone, but this seems counter to the spirit of the day.
If we're celebrating the fact that there is an aftermath to the war — that it's over — shouldn't we be marking the day with something calm? Gentle music and back rubs? I like watching fireworks, but upon reflection, it seems like a strange way to mark the day.
Are you doing anything for July 4th if you live in the US? I'm assuming for everyone else that the day is just Tuesday.
*******
Are you also doing #MicroblogMondays? Add your link below. The list will be open until Tuesday morning. Link to the post itself, not your blog URL. (Don't know what that means? Please read the three rules on this post to understand the difference between a permalink to a post and a blog's main URL.) Only personal blogs can be added to the list. I will remove any posts that are connected to businesses or are sponsored post.