#MicroblogMondays 146: What's for Dinner?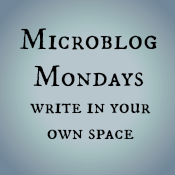 Not sure what #MicroblogMondays is? Read the inaugural post which explains the idea and how you can participate too.
*******
I was reading an old Modern Mrs. Darcy post and she asked about dinner staples: recipes you keep making again and again because can throw them together quickly without having to think deeply.
Pasta with tomato sauce immediately popped to mind. We eat spaghetti with tomato sauce (with a side Caesar mostly following Alton Brown's recipe) at least once every other week. We also do huevos rancheros about once a week. In the winter, we eat a lot of vegetarian chili (served over spaghetti) or English pea soup (from Mary McCartney). My hummus and pita is also pretty mindless. Oh! And I make pizza from scratch once a week. None of those things require me to read a recipe.
What are the meals you have over and over again in your home?
*******
Are you also doing #MicroblogMondays? Add your link below. The list will be open until Tuesday morning. Link to the post itself, not your blog URL. (Don't know what that means? Please read the three rules on this post to understand the difference between a permalink to a post and a blog's main URL.) Only personal blogs can be added to the list. I will remove any posts that are connected to businesses or are sponsored post.