#MicroblogMondays 144: 42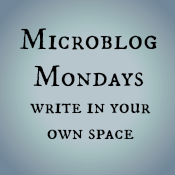 Not sure what #MicroblogMondays is? Read the inaugural post which explains the idea and how you can participate too.
*******
I'm in my last few days of being 42. I am always bummed out about my birthday and getting older, but in this case, I waited my whole life to be 42, and now it's almost over.
I was really excited to celebrate my Douglas Adams birthday.
But can I tell you the worst story? When I was younger, I couldn't wait to be 19 because it's a number that is fun to say in Hebrew. It has a "T" sound in the beginning of the word, but because of the other letters around it, it almost sounds like the word chai (as in "chai tea") said with a T. I know, sort of hard to imagine if you don't know Hebrew, so here is a video of a guy saying the numbers 11 to 19.
Anyway I forgot that I was 19 until a few days before my 20th birthday. I was washing my hair at my friend's apartment in Oslo when it dawned on me that I had been 19 the whole year and had never said aloud how old I was. My diary is entry after entry about how I was finally 19 and blew it.
Remembering that, I sucked the marrow out of being 42. Thanks, Mr. Adams.
Is there a certain age you always wanted to be? Why?
*******
Are you also doing #MicroblogMondays? Add your link below. The list will be open until Tuesday morning. Link to the post itself, not your blog URL. (Don't know what that means? Please read the three rules on this post to understand the difference between a permalink to a post and a blog's main URL.) Only personal blogs can be added to the list. I will remove any posts that are connected to businesses or are sponsored post.