#MicroblogMondays 143: Boots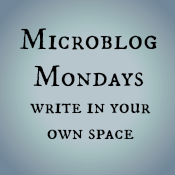 Not sure what #MicroblogMondays is? Read the inaugural post which explains the idea and how you can participate too.
*******
One of my biggest problems with air travel is my inability to wear my boots. Maybe I could wear my boots, but I never risk them when I have to go through security because they have steel toes. I will not pack my boots with my baggage, which means I never fly with my boots.
My boots make me feel like myself, and because I can't wear them when I need to go somewhere on a plane, I never feel like myself when I'm on a trip.
I wear my boots all year round. Pretty much every day. Sometimes they're tied. Sometimes they're not. They make me feel powerful even though I know in my heart that I'm not powerful. My big, black, clunky boots are the most Melissa thing I own.
Do you have something you wear that makes you feel like you?
*******
Are you also doing #MicroblogMondays? Add your link below. The list will be open until Tuesday morning. Link to the post itself, not your blog URL. (Don't know what that means? Please read the three rules on this post to understand the difference between a permalink to a post and a blog's main URL.) Only personal blogs can be added to the list. I will remove any posts that are connected to businesses or are sponsored post.