#MicroblogMondays 142: Concerts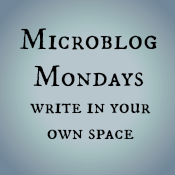 Not sure what #MicroblogMondays is? Read the inaugural post which explains the idea and how you can participate too.
*******
I did not participate in the 10 concert Facebook meme because (1) I don't go to a lot of concerts. Yes, I've been to over 10 during the course of my lifetime, but I'm not a big concert goer and don't really feel like reminiscing about them. (2) I go to most concerts for other people. Therefore, my concert list doesn't reflect my musical tastes. (3) I didn't really get the point of the lie unless you constantly speak about concerts. I did a tongue-in-cheek version swapping in theater instead of concerts because it is a running joke that I talk about certain plays incessantly. The ones on the list are the ones that people generally roll their eyes about when I start quoting from them.
A side comment: when we cleaned out our bookcases, we found 8 copies of the same Dürrenmatt play.
Anyway, I did go to a concert last week — Midnight Oil. It felt like slipping on a t-shirt from high school. 90% of the reason I wanted to go to the show was to watch Peter Garrett dance. But normally, not a concert fan.
Do you like concerts? And did you do the meme if you don't really like concerts?
*******
Are you also doing #MicroblogMondays? Add your link below. The list will be open until Tuesday morning. Link to the post itself, not your blog URL. (Don't know what that means? Please read the three rules on this post to understand the difference between a permalink to a post and a blog's main URL.) Only personal blogs can be added to the list. I will remove any posts that are connected to businesses or are sponsored post.