#MicroblogMondays 141: Mystery Hikes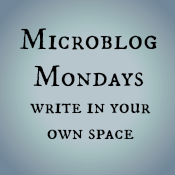 Not sure what #MicroblogMondays is? Read the inaugural post which explains the idea and how you can participate too.
*******
Atlas Obscura had a post on mystery hikes in the 1930s. The opening says it all:
On March, 23, 1932, crowds descended upon Paddington Station, London after paying expressly for the privilege of being kept in the dark. They enthusiastically waited for a train with no known destination. Even the conductors had no idea where they would go. They were going to be passengers on London's very first Hiker's Mystery Train Express.
They boarded a train with no clue where they would end up. This activity became very popular in several countries, and it was viewed with the same regard as today's glampers. It's hiking, but it's not really hiking. The point is not knowing where you'll end up.
I peeked at the current travel companies that do this sort of thing, though the first involved flights and the second involved places I didn't really want to go. I think I would love this if it was low-commitment, like the mystery hike. A single day, ending up who knows where, with a bunch of other people who are all in the same situation. Not so much if it's a trip for multiple days.
Would you go on a mystery hike? A longer mystery trip?
*******
Are you also doing #MicroblogMondays? Add your link below. The list will be open until Tuesday morning. Link to the post itself, not your blog URL. (Don't know what that means? Please read the three rules on this post to understand the difference between a permalink to a post and a blog's main URL.) Only personal blogs can be added to the list. I will remove any posts that are connected to businesses or are sponsored post.