#MicroblogMondays 138: Easter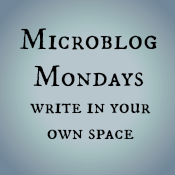 Not sure what #MicroblogMondays is? Read the inaugural post which explains the idea and how you can participate too.
*******
Linus's breeder announced that she has a few new guinea pig babies that will be ready for homes in the next month. There is something about hearing this news coupled with Easter and the onslaught of baby animal pictures that is making me open up an email to her and then close it without sending.
I want another guinea pig. I don't want another guinea pig.
Maybe I just want a Cadbury egg. The ice cream shop at the beach posted a picture of sweet cream ice cream with chunks of Cadbury egg, drizzled with caramel.
Are you off for Easter? Are you doing anything good with your day off?
*******
Are you also doing #MicroblogMondays? Add your link below. The list will be open until Tuesday morning. Link to the post itself, not your blog URL. (Don't know what that means? Please read the three rules on this post to understand the difference between a permalink to a post and a blog's main URL.) Only personal blogs can be added to the list. I will remove any posts that are connected to businesses or are sponsored post.