#MicroblogMondays 137: Picking Prizes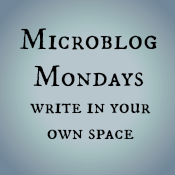 Not sure what #MicroblogMondays is? Read the inaugural post which explains the idea and how you can participate too.
*******
The ChickieNob beat me in cards, and I told her that she could pick the prize. She narrowed it down to a Buffy soundtrack or a Buffy episode, but that was as far as she got.
We talked about it a lot, and I pointed out that it was a pretty low stakes decision. She could (1) play me in cards again and probably beat me a second time (if not on the first try then some point in the future) and (2) she had the money to buy herself the soundtrack AND the episodes. But she still couldn't make up her mind. It was like knowing she had a prize was even better than choosing the prize.
The Wolvog is the same way. It is so hard for him to choose what he wants to do when we go hang out somewhere, even when I promise him that it's a low stakes decision: we can go out again the next week and do something different.
As someone who held onto a massage gift certificate for years because knowing I had it was better than using it, I get it. The apples didn't fall far from this neurotic tree.
Do you like to choose prizes (or use gifts) quickly or hold onto them indefinitely?
*******
Are you also doing #MicroblogMondays? Add your link below. The list will be open until Tuesday morning. Link to the post itself, not your blog URL. (Don't know what that means? Please read the three rules on this post to understand the difference between a permalink to a post and a blog's main URL.) Only personal blogs can be added to the list. I will remove any posts that are connected to businesses or are sponsored post.