#MicroblogMondays 136: The Books I Haven't Read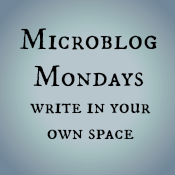 Not sure what #MicroblogMondays is? Read the inaugural post which explains the idea and how you can participate too.
*******
The Paperback Princess had such an interesting post about the books she hasn't read. It was really hard to come up with my "not read" list because I also have a problem remembering what I have read. For instance, I started listing out books and then realized that I not only owned the book but my handwriting is all over the inside of said book. So… thinking I read those ones.
But I definitely haven't read Middlemarch, Naked Lunch, Atlas Shrugged, The Heart is a Lonely Hunter, Tropic of Cancer, or any of the Outlander books. And with the exception of Heart is a Lonely Hunter, I also have no intention of reading any of these books.
How about you? What haven't you read that you probably should have gotten to by now?
*******
Are you also doing #MicroblogMondays? Add your link below. The list will be open until Tuesday morning. Link to the post itself, not your blog URL. (Don't know what that means? Please read the three rules on this post to understand the difference between a permalink to a post and a blog's main URL.) Only personal blogs can be added to the list. I will remove any posts that are connected to businesses or are sponsored post.