#MicroblogMondays 134: Fish Love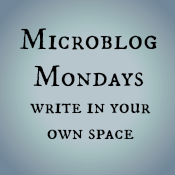 Not sure what #MicroblogMondays is? Read the inaugural post which explains the idea and how you can participate too.
*******
I read an interesting thought from Abraham Twerski (The Enemy Within). It was part of a larger commentary on self-love; not in the positive sense, but in the "putting yourself before others" sense:
The Rebbe of Kotzk noticed a young man thoroughly enjoying a dish of fish. "Why are you eating fish?" the Rebbe asked.

The young man responded, "Why? Because I love fish, that's why."

"So it was your love for the fish that caused you to take it from the water, kill it and cook it! If you really loved the fish, you would have let it live. Do not delude yourself, young man. What you really love is yourself, and because the fish satisfies your palate, you eat it."
A fitting thought considering the political climate where so many of us are the fish, and we're being told that work is being done to make our lives better when we feel like we're being devoured, all for someone else's enjoyment. It's words not matching up with actions.
Chew on that.
*******
Are you also doing #MicroblogMondays? Add your link below. The list will be open until Tuesday morning. Link to the post itself, not your blog URL. (Don't know what that means? Please read the three rules on this post to understand the difference between a permalink to a post and a blog's main URL.) Only personal blogs can be added to the list. I will remove any posts that are connected to businesses or are sponsored post.