#MicroblogMondays 132: One Food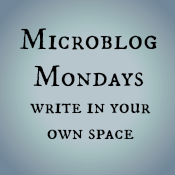 Not sure what #MicroblogMondays is? Read the inaugural post which explains the idea and how you can participate too.
*******
It isn't surprising to read that you can't exist on one food alone (though potatoes apparently would keep you alive the longest), but did you know that you're hardwired to eat a varied diet? The BBC article states:
Humans have built-in mechanisms to avoid just such a situation (probably because it eventually leads to malnutrition) – specifically, a phenomenon called sensory-specific satiety: The more you eat of one thing, the less you can stomach it.
But I love eating the same thing. Back in graduate school, I ate the same thing for every meal. It was a roasted vegetable and tofu sandwich on a bagel. I ate three of them every day for years. I would still be eating at the sandwich if everyone else in this house would agree to consume it, too. But the meal varies from night to night because I have to cook dinner for everyone else. (Though breakfast and lunch are always the same for me.)
There is no possible way I could ever get bored of Special K. No way that I could ever get sick of cucumbers.
What is the one food you think you could eat over and over again, sensory-specific satiety be damned?
*******
Are you also doing #MicroblogMondays? Add your link below. The list will be open until Tuesday morning. Link to the post itself, not your blog URL. (Don't know what that means? Please read the three rules on this post to understand the difference between a permalink to a post and a blog's main URL.) Only personal blogs can be added to the list. I will remove any posts that are connected to businesses or are sponsored post.