#MicroblogMondays 130: A Different Kind of Book Club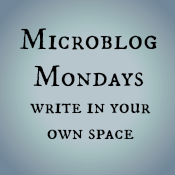 Not sure what #MicroblogMondays is? Read the inaugural post which explains the idea and how you can participate too.
*******
I love the idea of a book club, but I hate the actuality of a book club because every one I have ever been in goes the same way. I read a book that I don't really enjoy because it's the selection, foregoing something I really do want to read, and then arrive at the meeting and discover that over half the group hasn't read it at all, and no one really moves to discuss it.
But I thought this book club for two is a brilliant idea. Rather than reading the book ahead of time, they read it over the phone to one another. They can discuss it in real time or just relax and listen to the story.
I do this with the twins — we're currently reading Sleeping Giants together, though the ChickieNob and I are also reading Twilight without the Wolvog — but I never thought to do it with someone my age. I guess you would have to find someone who shares the same reading taste so you don't run into the problem above — spending time with books that annoy you at the expense of spending time with a story you want to read.
What do you think about reading a book aloud with another person as a book club for two?
*******
Are you also doing #MicroblogMondays? Add your link below. The list will be open until Tuesday morning. Link to the post itself, not your blog URL. (Don't know what that means? Please read the three rules on this post to understand the difference between a permalink to a post and a blog's main URL.) Only personal blogs can be added to the list. I will remove any posts that are connected to businesses or are sponsored post.