Everyday Issues
A long time ago (at least, it feels like a long time ago), every once in a while, something would happen and we would all react to it. Sometimes it was something good — Princess Kate's wedding — and sometimes it was something horrible — a mass shooting — but in all cases, we were hungry for connection; we were hungry to read each other's words and feel comfort or collective joy.
But now the issues come fast and furious, every single day.
There is something new to write about every day; a new fear, a new outrageous action, a new protest. It feels like this administration is strangling out everything else in the world, smothering out the day-to-day moments until the online world feels like one, enormous, on-going scream.
*******
When we first brought Linus home, ChickieNob whisked him away to her room and closed the door. When I came up a little while later to check what was happening, I found them curled up together, watching an episode of Buffy. Linus was attentively listening to her explain the basic plotline for the show, and the names and relationships of the various characters.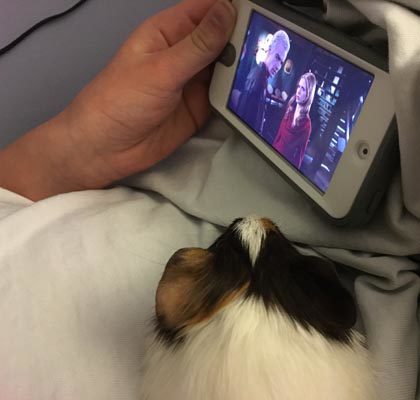 I don't want that memory smothered out by someone else's hate. But it's hard to remember to write about it when I peruse the news sites prior to opening an empty blog post. Every sweet moment flies out of my head, replaced by the enormous, on-going scream.
*******
I finished Prep by Curtis Sittenfeld (so good — it made me think back to my own, albeit-non-boarding-school high school experience) and started American Wife. I borrowed the book from the library, and it smells like someone kept the copy in a nest of old pantyhose for several years.
I wanted to read it because my understanding of the book is that it's a fictionalized account of Laura and George Bush, or a more liberal first lady speaking about her husband, a Republican President.
I know very little about Laura Bush. My only Laura Bush story involves a wedding registry at a Crate and Barrel. We had just come from the doctor's office — this was before we started treatments — and we were trying to get a referral for the RE. I was miserable, but we had to take care of a wedding gift. It took about twenty minutes to get the registry up on their ancient computer, and we were just about to scroll down and see what they wanted when the Secret Service came in and said we had to leave because they had to sweep the store so Laura Bush could shop.
This is a pretty common occurrence in DC, like traffic stopping for the motorcade, but it's annoying when you have one errand to run and you can't complete it. She browsed for all of five minutes, and then left without buying anything. In the meantime, while we were standing outside for the sweep, the computer reset and we had to start from scratch bringing up the registry. We gave up after a few minutes and our friends got a crepe pan — out go-to gift at the time. So, sorry friends who got a crepe pan that wasn't on your registry.
Anyway, I got this book because I was hoping that it would give insight into how we can live in this world for the next few years. How we can get along with family and friends who have different views. Maybe it's only fiction and I'll be disappointed to learn the answer is just suck it up. Or maybe there will be a kernel of something useful in the pages. Because right now, my instinct is to join that enormous, on-going scream every single day.
What other sound can you make right now?
There are so many stories out there that tell you how to vanquish hate. You throw the ring into the fires of Mount Doom or you destroy all the horcruxes. But fewer stories that tell you how to keep someone close that stands on the other side of a deep divide.
Right now, that divide is so wide, I fear that not only will our hands never stretch and reach over that space, but that divide will remain for generations to come; the echoes of it repeating long after the original scream is gone.