633rd Friday Blog Roundup
Linus has been in our family for about two weeks now.  He has settled in nicely, and isn't shy about his likes (kale, shredded carrots, romaine lettuce) and dislikes (carrot chunks, sugar snap peas, apple).  He is mad for barley cookies, enjoys rolling around in his hay bowl (eating is a full body experience), and will nibble his dry food.
He wheeks nonstop when the twins come home from school.  He gets himself worked up, frantically jumping until they pick him up.  He wants to be held pretty much 24/7.  He's happy enough to sit in my lap while I work, but he prefers for one of my hands to be stroking his back.
I love this pig so much.
I miss Truman, but it is nice to have a pig to cuddle while I miss him.  It helps that his personality is so different from Truman's personality and that the two pigs look nothing alike.  Look at that little piggy face: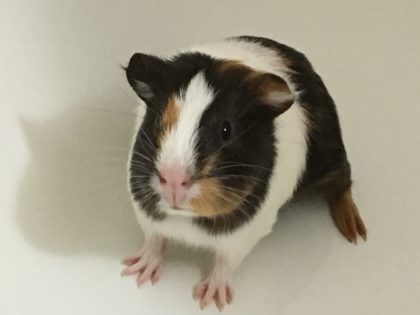 *******
Has anyone ever tried (or know someone who tried) NaProTECHNOLOGY?  That's their capitalization… not mine, just in case you thought I was shouting that last bit at you through the screen.  I was speaking with a journalist who is looking to connect with anyone who tried it.
*******
Stop procrastinating.  Go make your backups.  Don't have regrets.
Seriously.  Stop what you're doing for a moment.  It will take you fifteen minutes, tops.  But you will have peace of mind for days and days.  It's the gift to yourself that keeps on giving.
As always, add any new thoughts to the Friday Backup post and peruse new comments in order to find out about methods, plug-ins, and devices that help you quickly back up your data and accounts.
*******
And now the blogs…
But first, second helpings of the posts that appeared in the open comment thread last week.  In order to read the description before clicking over, please return to the open thread:
Okay, now my choices this week.
Grumpy Rumblings has an interesting post about whether you should go broad or deep when it comes to activism.  Is it better to spread yourself out over many issues, or to focus all of your energy on a single issue?  There's a benefit and drawback to each approach, and the comment section is just as interesting as the post itself.
ANDMom has a moving post about feeling overwhelmed.  She writes, "I'm empty, and I don't know exactly how one goes about filling back up again – and even if I did, I'm not sure I have it in me to try."  It's a gorgeous post about how even once things get better, it can be difficult to return to filling yourself when the care has flowed out towards others for so long.
Lastly, My Path to Mommyhood has a post about an offensive text from another person who states that she feels like she needs to tiptoe around them due to their infertility.  She writes, "And now apparently all we've done is make her feel like shit for her life and her job and she has had to tiptoe around us, and she basically equated scrolling past an offensive political post to SCROLLING PAST OUR PERSONAL TRAGEDY."  Being kind is not that difficult.  Following someone's lead to the best of your ability doesn't remove your happiness.  I do not buy the argument that being sensitive towards another person is a hardship.
The roundup to the Roundup: Linus is settling in.  Your weekly backup nudge.  And lots of great posts to read.  So what did you find this week?  Please use a permalink to the blog post (written between February 3rd and February 10th) and not the blog's main url. Not understanding why I'm asking you what you found this week?  Read the original open thread post here.