#MicroblogMondays 127: Imbalance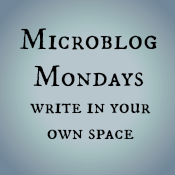 Not sure what #MicroblogMondays is? Read the inaugural post which explains the idea and how you can participate too.
*******
On the day we brought home Linus, a few miles away at the airport, a family with two kids were being detained. Not for anything they did or intended to do but because of their country of origin.
That imbalance: One family can afford to keep a rodent as a pet, another doesn't have a safe home.
It's not as if you only have a single refugee family to choose from if you want to note the imbalance in this country. We are a nation that entertains itself by wasting food. We have television shows where contestants make creative dishes with expensive ingredients so judges can critique them, and those shows are filmed in cities where there are children dreading snow days because staying home from school also means a lack of access to food provided through the FARMs program.
That is privilege. That is advantage.
That is what is giving me pause today. What is giving you pause?
Actually, pause is the wrong term, since that pause means taking action: Make calls. Join a protest. Write a post. Get out there and change things.
*******
Are you also doing #MicroblogMondays? Add your link below. The list will be open until Tuesday morning. Link to the post itself, not your blog URL. (Don't know what that means? Please read the three rules on this post to understand the difference between a permalink to a post and a blog's main URL.) Only personal blogs can be added to the list. I will remove any posts that are connected to businesses or are sponsored post.