#MicroblogMondays 126: Shower Cries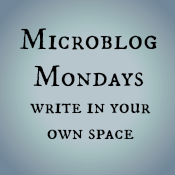 Not sure what #MicroblogMondays is? Read the inaugural post which explains the idea and how you can participate too.
*******
I miss Truman.  I am not shy about crying in front of the kids or Josh.  I am not shy about crying in public.  I cried in the grocery store buying parsley because it was unusually crisp, and it made me so sad to think about making soup stock without my baby wheeking through the whole thing.
I cry when I'm driving, especially if I see someone walking their dog.  I am aware that Truman wasn't a dog, but that person has their pet and I don't.  I cry when I walk downstairs and there is no one greeting me in the morning, and I cry when I look in the corner of the room and realize anew that there is no one to say goodnight to in the living room.
But I mostly cry in the shower.  I am a shower crier.  Sometimes I can feel my sadness or frustration building in the morning, and I wait to shower until it feels like every emotion is going to spill over.  Then I get under the water and wail.  I'm not just saying now, mourning Truman, but always.  I have always been a shower crier.
Do you cry in the shower, too?  Is it safe because you're alone?  Because the sound of the water covers up any sounds of tears?  Because you can wash your face before stepping back out of the bathroom and facing the day?
*******
Are you also doing #MicroblogMondays? Add your link below. The list will be open until Tuesday morning. Link to the post itself, not your blog URL. (Don't know what that means? Please read the three rules on this post to understand the difference between a permalink to a post and a blog's main URL.) Only personal blogs can be added to the list. I will remove any posts that are connected to businesses or are sponsored post.