#MicroblogMondays 125: King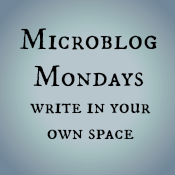 Not sure what #MicroblogMondays is? Read the inaugural post which explains the idea and how you can participate too.
*******
Today is Martin Luther King Jr. Day (usually called MLK Day) in America. It feels particularly poignant this year because we're moving between two very different types of leaders. Obama guided by pointing out the positive. And Trump… well… I can't say that we are being guided anywhere good. Insurance companies will benefit greatly from his administration. Individuals, not so much.
King wasn't a perfect leader or a perfect person, but he showed up and he cared and he tried his best to guide the nation towards a better place where one group of people didn't need to be down for another group of people to be up.
I think I miss him a little extra this year because we need leaders like that — leaders who can speak eloquently to express our hearts and energize us to keep fighting for equality. There are strong leaders out there (Elizabeth Warren comes to mind). We need them to get a lot louder now that Trump is leading us backwards instead of forwards.
To me, King is a great reminder that it's not about perfection. It's about humanness; looking for the good in others and understanding that we're all in this together.
What do you think makes a great leader?
*******
Are you also doing #MicroblogMondays? Add your link below. The list will be open until Tuesday morning. Link to the post itself, not your blog URL. (Don't know what that means? Please read the three rules on this post to understand the difference between a permalink to a post and a blog's main URL.) Only personal blogs can be added to the list. I will remove any posts that are connected to businesses or are sponsored post.