#MicroblogMondays 123: Pride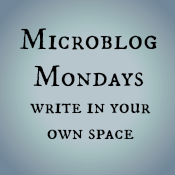 Not sure what #MicroblogMondays is? Read the inaugural post which explains the idea and how you can participate too.
*******
Every year between Christmas and New Years, we watch the Lord of the Rings trilogy. The goal is to get Aragorn and Arwen's kiss as close to midnight on New Year's Eve as possible. We rarely succeed. By which I mean that we don't succeed at all. Like we sometimes get stuck watching the Two Towers well into January. We suck.
But this year, we made a commitment. Watch at least one hour, but hopefully more, daily. Lather, rinse, repeat. Do not allow life to get in the way of our goal.
This year, we succeeded. Even though we had to take a few days off because the kids slept at my parents' house, we timed it carefully and got the kiss in at 10:59 pm on New Year's Eve. I wanted to run around the house, screaming, because I was so proud of us. Instead, I tiredly ate some M&Ms and said, "Well done, team."
Sometimes it's not the big wins. Sometimes it's the small victories. What was your latest small victory?
*******
Are you also doing #MicroblogMondays? Add your link below. The list will be open until Tuesday morning. Link to the post itself, not your blog URL. (Don't know what that means? Please read the three rules on this post to understand the difference between a permalink to a post and a blog's main URL.) Only personal blogs can be added to the list. I will remove any posts that are connected to businesses or are sponsored post.