#MicroblogMondays 122: Post-Christmas Blues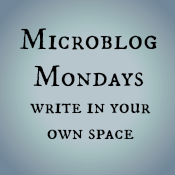 Not sure what #MicroblogMondays is? Read the inaugural post which explains the idea and how you can participate too.
*******
The day after Purim is usually a bit of a letdown. There is relief because I pulled off all the costumes and presents, but there are also hours where I feel down because so much energy was directed at getting through the holiday, and now the holiday is over until next year.
I imagine that is what Christmas is like, too. I mean, most people are off today, so that helps to extend the holiday feeling. But all good things must come to an — albeit temporary in the case of annual traditions — end.
How do you get through the blues that occur after a big deal event has passed? Any Christmas traditions for a soft landing?
*******
Are you also doing #MicroblogMondays? Add your link below. The list will be open until Tuesday morning. Link to the post itself, not your blog URL. (Don't know what that means? Please read the three rules on this post to understand the difference between a permalink to a post and a blog's main URL.) Only personal blogs can be added to the list. I will remove any posts that are connected to businesses or are sponsored post.