#MicroblogMondays 121: Post in Your Own Space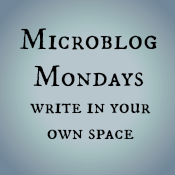 Not sure what #MicroblogMondays is? Read the inaugural post which explains the idea and how you can participate too.
*******
How is this for meta: a MicroblogMondays post about MicroblogMondays.
If you are looking for a resolution for this upcoming year, look no more. You should make the commitment of writing in your own space on the Web at least 52 times in 2017. One post each week; at least one sentence long. There is no rule that blog posts must be 500 words. I've seen posts that were one sentence or one paragraph, and they were just as thought-provoking as long pieces. Ask your readers a question. Tell them what you are doing at that very moment instead of putting those words on Twitter. Anything.
Why do I think this is important? Because I think posting things in your own space not only gives you the warm glow of ownership over your ideas, but it also makes people more circumspect. It makes people support their thoughts with examples, provide links to sources, and unpack their feelings. When it's your own space, you think twice before posting. When it's your own space, you tend not to forward or link to other articles without checking them out first.
I think blogging in your own space helps keep balance with the quick-moving world of other social media sites. It's like the front porch to a house where people sit down to talk and listen. People don't quickly scroll past blog entries. And I think blogging is even more important — especially first-hand accounts of the world — in this day and age of fake news and slippery facts.
So I'm just putting this out there: Go write in your own space in 2017.
*******
Are you also doing #MicroblogMondays? Add your link below. The list will be open until Tuesday morning. Link to the post itself, not your blog URL. (Don't know what that means? Please read the three rules on this post to understand the difference between a permalink to a post and a blog's main URL.) Only personal blogs can be added to the list. I will remove any posts that are connected to businesses or are sponsored post.