#MicroblogMondays 120: Book Thief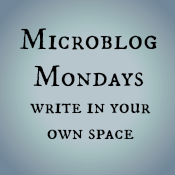 Not sure what #MicroblogMondays is? Read the inaugural post which explains the idea and how you can participate too.
*******
Atlas Obscura also had an article about bibliomania, a neurosis that afflicted people in the 17 and 1800s and caused them to spend all of their money collecting books. (Or, in some cases, risked it all to steal books.)
In the case of bibliomania, it sounds more like any obsessive collecting — from rare comic books to Pokemon — but I clicked on the article due to the excerpt because it hit close to home.
I am a book hoarder. I own more books than I could ever find time to read, plus I buy more books despite having stuff I'm excited about on my to-read list. I hint to people that I really would love that book that they mentioned that they don't want anymore. I am about one step away from stealing library books like the first guy in the article. At least the people in the article had an excuse — books were rare and hard to obtain. Commercialization was supposed to be the cure. But look at me! I am a danger to all little free libraries in America.
Is there anything you collect without knowing what you would ever do with the collection?
*******
Are you also doing #MicroblogMondays? Add your link below. The list will be open until Tuesday morning. Link to the post itself, not your blog URL. (Don't know what that means? Please read the three rules on this post to understand the difference between a permalink to a post and a blog's main URL.) Only personal blogs can be added to the list. I will remove any posts that are connected to businesses or are sponsored post.