627th Friday Blog Roundup
Last year, I admonished Stephanie for running into a store for tampons and bypassing the Michael Jackson frog statues.  Who the hell leaves behind a Michael Jackson frog, especially one grabbing his crotch?  Fine, fine, fine, the ceramic cow skull I understand (those hollow eyes are sort of creepy), but Michael?
Fast forward to this week when Josh picks up the mail and texts that there is a package for me.
Guess who has come to live in my house?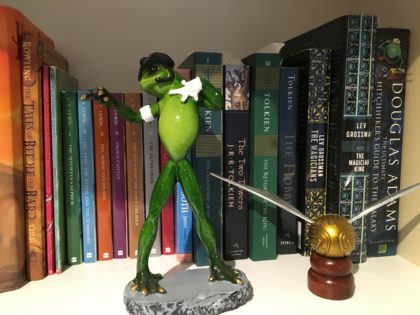 Great statue or greatest statue?  Ever.
Thank you, Stephanie.  This made my year.
*******
We went to see Jackie this week.  Normally I hate going to the movie theater because I can't relax with a bunch of strangers around me AND I had already endured the movie theater recently to see Rogue One,  but I wanted to see Jackie that badly.
It didn't disappoint.  There were chunks of the movie where I forgot that I was watching Natalie Portman.  It was so beautiful.  It's one of my top favourite movies of all time, and I already know that I'm going to buy it the moment it comes out on DVD in March.
*******
Stop procrastinating.  Go make your backups.  Don't have regrets.
Seriously.  Stop what you're doing for a moment.  It will take you fifteen minutes, tops.  But you will have peace of mind for days and days.  It's the gift to yourself that keeps on giving.
As always, add any new thoughts to the Friday Backup post and peruse new comments in order to find out about methods, plug-ins, and devices that help you quickly back up your data and accounts.
*******
And now the blogs…
But first, second helpings of the posts that appeared in the open comment thread last week.  In order to read the description before clicking over, please return to the open thread:
Okay, now my choices this week.
The Empress and the Fool has a post about the media's coverage of infertility as well as the stories out of Hollywood of women easily popping out babies in their forties without a care in the world.  Okay, so I loved this post for the term "cryo-stash," but she makes a really important point about the stories we put out into the world and how they affect people beyond ourselves.  And, moreover, "I'm not sure how much of my private life I'm morally obligated to divulge in the interest of the public good."
My Path to Mommyhood has a bittersweet story about a misunderstanding stemming from the fact that she was holding a colleague's baby.  She writes, "I found their flash of belief in this magical baby delivery endearing though, and their amazement and brief moment of OH MY G-D IT FINALLY HAPPENED! to be just incredibly heartwarming."  It's really a post about everyone who is waiting with you when you're waiting to build your family; even the people you don't really think about who are silently cheering you on.
Lastly, Bent Not Broken has a beautiful post about aunthood.  We call that "the honey and the sting" in Hebrew — the thing that brings you so much happiness that also makes you ache at the same time.  Or, as she perfect states: "Definitely a weird gray space of where I held happiness and longing at the same time."  Go read the whole post.
The roundup to the Roundup: Thank you for the greatest frog statue ever!  Go see Jackie.  Your weekly backup nudge.  And lots of great posts to read.  So what did you find this week?  Please use a permalink to the blog post (written between December 23rd and 30th) and not the blog's main url. Not understanding why I'm asking you what you found this week?  Read the original open thread post here.