#MicroblogMondays 118: The Newly Not Gross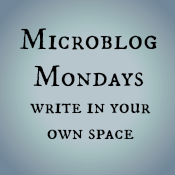 Not sure what #MicroblogMondays is? Read the inaugural post which explains the idea and how you can participate too.
*******
I am terrible at trying new foods when it is on someone else's timetable, but I am actually decent at giving things a try on my own. Take, for instance, Brussels sprouts. Did not want to try them any time other people asked me to try them over the years, but one day (well into adulthood) I decided I wanted to taste them, and now they're one of my favourite things.
The same thing is happening with Tofurkey.
I am usually not drawn to fake meat, mostly because I am grossed out by real meat. Why would I want to eat a fake version of something I find revolting in its real form? It took me a long time to come around to veggie burgers or ersatz chicken patties, and they're still not my favourite things, but I've never tried Tofurkey. The idea of it is unappetizing.
Yet I am suddenly interested in the idea of Tofurkey, and now just need to whip up the stuffing and vegetarian gravy to make a meal out of trying it.
Have you ever changed your mind on trying something you said you would never, ever eat?
*******
Are you also doing #MicroblogMondays? Add your link below. The list will be open until Tuesday morning. Link to the post itself, not your blog URL. (Don't know what that means? Please read the three rules on this post to understand the difference between a permalink to a post and a blog's main URL.) Only personal blogs can be added to the list. I will remove any posts that are connected to businesses or are sponsored post.