#MicroblogMondays 116: How It Begins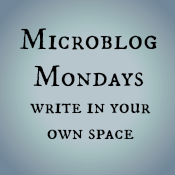 Not sure what #MicroblogMondays is? Read the inaugural post which explains the idea and how you can participate too.
*******
Josh's co-worker's church was hit on Sunday. A sign stretching out in front of the church announcing services in Spanish was defaced with the words "Trump Nation, Whites Only." This comes on the heels of a local middle school defaced with swastikas. As of Friday, there have been 200 reported incidents of "hateful harassment and intimidation." So these acts aren't part of that 200-count since they happened after Friday at 5 pm.
I live in the most liberal of states, and this is the most liberal county in the state.
Let that sink in for a moment.
I want to be writing about other things, really, I do. I have a short list of non-political things I want to unpack such as robot eyes and this great hourly trick I learned for feeling more kindness during a stressful day. THAT is what I want to be writing about, not this.
And yet this is what I keep sitting down to type. It is what I keep unpacking with friends in conversation. Maybe it is because I don't feel safe. Maybe if I was in a different position, I could set it mentally aside. But I'm not. So I keep talking about it and thinking about it and reading about it.
How do things feel for you a week down the road?
Tomorrow… kindness mind game. I kinda sorta promise.
*******
Are you also doing #MicroblogMondays? Add your link below. The list will be open until Tuesday morning. Link to the post itself, not your blog URL. (Don't know what that means? Please read the three rules on this post to understand the difference between a permalink to a post and a blog's main URL.) Only personal blogs can be added to the list. I will remove any posts that are connected to businesses or are sponsored post.