#Microblog Mondays 115: Taken for Granted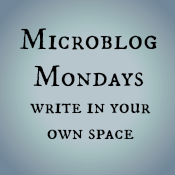 Not sure what #MicroblogMondays is? Read the inaugural post which explains the idea and how you can participate too.
*******
I wanted to get a red shawl to wear to the polls tomorrow, even though the meaning will be lost on all but a few select nerds. Susan B Anthony wore a red shawl while fighting for the right to vote. I love this quote from the Museum of American History:
It was said in Washington that there were two signs of spring: the return of Congress to the nation's capital and the sight of Anthony's red shawl as she also returned to lobby congressmen.
I am very emotional about getting to vote for a woman president in a way that I've never been emotional before when going to the polls. Which is probably the definition of privilege. I've always taken it for granted that I have the right to vote, though there are women voting today who were born before that right to vote.
I guess I wanted to wear red to thank those women who did the hard work of bringing us to this point.
Do you ever think about those women when you head to the polls, or is it only front and center in so many people's minds because we finally have a possibility for a female president?
*******
Are you also doing #MicroblogMondays? Add your link below. The list will be open until Tuesday morning. Link to the post itself, not your blog URL. (Don't know what that means? Please read the three rules on this post to understand the difference between a permalink to a post and a blog's main URL.) Only personal blogs can be added to the list. I will remove any posts that are connected to businesses or are sponsored post.