#Microblog Mondays 114: Reusing Costumes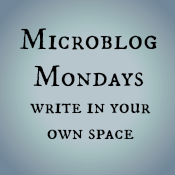 Not sure what #MicroblogMondays is? Read the inaugural post which explains the idea and how you can participate too.
*******
It's Halloween tonight, and the kids are going in the same costumes they used last year. Which are also the same costumes they used for Purim. Which may very well be the costumes they end up using this upcoming Purim.
It has been a busy month. Halloween sort of slipped through my fingers.
I actually like making them costumes, especially seeing their faces when they're dressed up as their favourite characters. So I feel strange that their costume doesn't really reflect their current interests. If we had more time, I think the ChickieNob would want to be Buffy the Vampire Slayer and the Wolvog would want to be a character from Overwatch.
If I had more time, I would want Josh and I to go as Ember and Umber from The Magicians. (Not that he would ever agree to this.)
Costume that best shows what you're into right now?
*******
Are you also doing #MicroblogMondays? Add your link below. The list will be open until Tuesday morning. Link to the post itself, not your blog URL. (Don't know what that means? Please read the three rules on this post to understand the difference between a permalink to a post and a blog's main URL.) Only personal blogs can be added to the list. I will remove any posts that are connected to businesses or are sponsored post.