#Microblog Mondays 113: Reading Aloud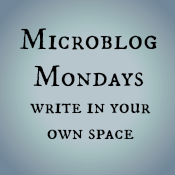 Not sure what #MicroblogMondays is? Read the inaugural post which explains the idea and how you can participate too.
*******
The twins and I still read aloud every night. Once upon a time, I worried that they would outgrow it, but we still like to sit down together at 8:30 pm. I read aloud a chapter and we discuss it in real time, even though they read books on their own the rest of the day.
We're currently reading Ernest Cline's Ready Player One. I didn't know if they would get into it, so I was holding another book in reserve, but they have been rabid about this story.
It's interesting. I don't think it has anything to do with the games or movies listed in the book, though they have certainly played almost all of the games and like a lot of the movies. I think it's more that the Wolvog relates to Wade. He'll point out similarities between them. It's almost as if, by reading the story, he's understanding himself.
Have you ever found yourself in a story or related to a character in such a way that you understood yourself better?
Mine? Arthur Dent. I often feel like a female Arthur Dent.
*******
Are you also doing #MicroblogMondays? Add your link below. The list will be open until Tuesday morning. Link to the post itself, not your blog URL. (Don't know what that means? Please read the three rules on this post to understand the difference between a permalink to a post and a blog's main URL.) Only personal blogs can be added to the list. I will remove any posts that are connected to businesses or are sponsored post.