#Microblog Mondays 112: Frideswide Day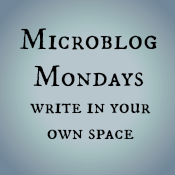 Not sure what #MicroblogMondays is? Read the inaugural post which explains the idea and how you can participate too.
*******
This Wednesday is St. Frideswide's feast day. We celebrate it as a family every year, usually doing something Alice-related or having a special meal or cake.
But this year, celebrating St. Frideswide Day on St. Frideswide Day isn't really going to work. I can pull together scones for breakfast, but that's pretty much it. A bunch of work projects are all due at the same time, so it would be really great if we could celebrate her life on Tuesday. Or Thursday. Sort of any day but that Wednesday. (Unless Hillary would like to reschedule the debate? Then we could tuck it into the evening hours.)
I feel weird celebrating a holiday not on the holiday, even though it's a great solution to a common problem. Lots of people celebrate a holiday early or late so they can get people together or celebrate with two different groups, one after the other.
What do you think of celebrating holidays not on the actual day?
*******
Are you also doing #MicroblogMondays? Add your link below. The list will be open until Tuesday morning. Link to the post itself, not your blog URL. (Don't know what that means? Please read the three rules on this post to understand the difference between a permalink to a post and a blog's main URL.) Only personal blogs can be added to the list. I will remove any posts that are connected to businesses or are sponsored post.