#Microblog Mondays 111: The Crown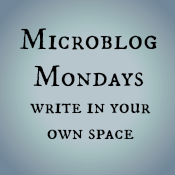 Not sure what #MicroblogMondays is? Read the inaugural post which explains the idea and how you can participate too.
*******
The ChickieNob and I have been waiting forever for the BBC to release The Crown, and it will finally be here at the beginning of November. We are going to devour that series while speaking to each other in British accents and eating scones and wearing sweater sets. So excited.
But…
What gave me pause was wondering how the Queen — who is still alive — processes art made about her life. It's one thing to have a show made about you after you're gone, but it's another to have your life dramatized for entertainment or educational purposes. I know she lives in the public eye, but it gave me pause to think of her bothered by (or maybe she loves it?) the show.
What do you think of biographical movies made about people while they're still alive?
*******
Are you also doing #MicroblogMondays? Add your link below. The list will be open until Tuesday morning. Link to the post itself, not your blog URL. (Don't know what that means? Please read the three rules on this post to understand the difference between a permalink to a post and a blog's main URL.) Only personal blogs can be added to the list. I will remove any posts that are connected to businesses or are sponsored post.