#Microblog Mondays 109: Goodbyes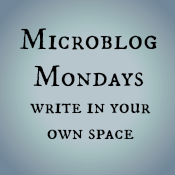 Not sure what #MicroblogMondays is? Read the inaugural post which explains the idea and how you can participate too.
*******
Today is my last day at job, and I am the last person on the editorial team. It's been a little like the Martian for the last few weeks. I'm just planting potatoes by myself, and it's a little lonely.
I love the site so much, and I feel lucky that I got closure and featured great content right up to the end. Before you ask, I have no clue what will happen to the site after this point, but I believe it will continue as informational support for the conference. Anyway, if we worked there together, thank you. I love working with writers, talking about writing, and learning something new every single day on the job.
I don't want to talk about my next step right now; I want to say goodbye to a place that meant a lot to me. I think we're conditioned to always look ahead, but I really need to look behind for a moment as I gently close the door. I am really proud of the work I did over there — that we all did over there. I will always be grateful to Denise for bringing me onto the team. I still have the original email from 2007 inviting me to work there. Denise, it was everything you promised in that original exchange.
I'm not good with goodbyes, especially to inanimate entities like websites. But I feel like I need to say goodbye to this one.
*******
Are you also doing #MicroblogMondays? Add your link below. The list will be open until Tuesday morning. Link to the post itself, not your blog URL. (Don't know what that means? Please read the three rules on this post to understand the difference between a permalink to a post and a blog's main URL.) Only personal blogs can be added to the list. I will remove any posts that are connected to businesses or are sponsored posts.