#Microblog Mondays 108: Story Setting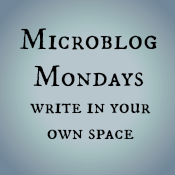 Not sure what #MicroblogMondays is? Read the inaugural post which explains the idea and how you can participate too.
*******
I started reading The Hopefuls by Jennifer Close, mostly because it's set in DC. There are very few books that are not genre fiction (and usually legal or political thrillers at that) that are set in contemporary DC, and this one is particularly Washingtonish.
I like it because the characters go to restaurants I like and visit local places I enjoy. If it's possible to feel homesick while you are still at home, this book is making me feel wistful for the place where I am right now.
I wish more books were set in my city, and I tend to gobble up books set in places I like, especially if they include familiar landmarks that are not the usual tourist sites. I'm even willing to stick with characters I don't particularly enjoy making observations which would make me roll my eyes if spoken by an actual human just to keep seeing the city.
Are there books set in your hometown? And do you enjoy reading location-based contemporary fiction?
*******
Are you also doing #MicroblogMondays? Add your link below. The list will be open until Tuesday morning. Link to the post itself, not your blog URL. (Don't know what that means? Please read the three rules on this post to understand the difference between a permalink to a post and a blog's main URL.) Only personal blogs can be added to the list. I will remove any posts that are connected to businesses or are sponsored posts.