#Microblog Mondays 107: Anniversaries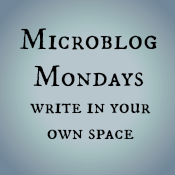 Not sure what #MicroblogMondays is? Read the inaugural post which explains the idea and how you can participate too.
*******
I didn't write about the 15th anniversary of September 11th yesterday because I didn't have anything to say. But I spent the day thinking about it. Thinking about the actual day 15 years ago, and how it impacted everything that has come after. I know that I come from a place of privilege; not everyone gets to decide how they approach the day.
It feels strange to not say something, or, more accurately, to say anything else. Doesn't it sometimes feel that way on social media? That your choice is to speak about the event on hand — good or bad — or say nothing at all. But anything in between feels like you're stepping over an unspoken line.
Which is true and not true at the same time. Maybe you thought it odd that I wrote about my guinea pig instead of the 15th anniversary, or maybe you didn't think anything of it at all.
Do you ever feel odd not speaking about a moment or event that is clearly on everyone else's mind? Do you think we have an obligation to publicly speak, or is it enough to privately remember?
*******
Are you also doing #MicroblogMondays? Add your link below. The list will be open until Tuesday morning. Link to the post itself, not your blog URL. (Don't know what that means? Please read the three rules on this post to understand the difference between a permalink to a post and a blog's main URL.) Only personal blogs can be added to the list. I will remove any posts that are connected to businesses or are sponsored posts.