#Microblog Mondays 106: Eating Companions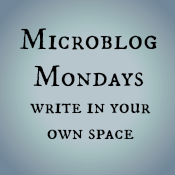 Not sure what #MicroblogMondays is? Read the inaugural post which explains the idea and how you can participate too.
*******
I recently learned about a phenomenon in South Korea called muk-bang, where people livestream themselves eating enormous amounts of food. I misunderstood the idea at first because I couldn't imagine anyone would want to see someone else chew. But, no, it's pretty much just watching someone else consume food.
What I thought it was, at first, was that people were turning on their camera and livestreaming their meal at the same time every night, so you could pull them on your screen while you ate your meal, and you felt as if you were eating with someone. You know, except for the fact that they couldn't hear you. Which would personally make me feel even lonelier than being completely alone, but that's just me. And maybe for some people that is the draw, but for others, it's just about watching someone else slurp noodles.
It made me wonder why I don't get together for FaceTime meals with friends since we could sit in front of our computers with our respective meals and sort of feel like we're in a restaurant with each other. How else am I going to get dinner with Lori?
Have you ever had a FaceTime (Skype) meal with another person? Would it appeal to you?
*******
Are you also doing #MicroblogMondays? Add your link below. The list will be open until Tuesday morning. Link to the post itself, not your blog URL. (Don't know what that means? Please read the three rules on this post to understand the difference between a permalink to a post and a blog's main URL.) Only personal blogs can be added to the list. I will remove any posts that are connected to businesses or are sponsored posts.