#Microblog Mondays 105: Fun House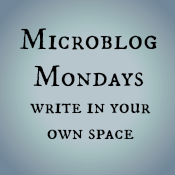 Not sure what #MicroblogMondays is? Read the inaugural post which explains the idea and how you can participate too.
*******
While I don't want to live in Florida, I do want to live in Disney World. (Yes, I'm aware that will be a problem if I don't want to live in Florida.) Like really really really want to find 2 million dollars so I can buy a house next to the parks and go there every day.
I love amusement parks.
And I love the idea of living in one. I know some people find amusement parks draining, but I feel super recharged and happy after being in one for a few hours. I know — sort of strange for an introvert, but I didn't say I liked engaging with people there. I just like being on the rides and walking around the park and breathing in the scent of park food and listening to carousel organ music.
Would you want to live in an amusement park? And if not, what would be your ideal space to inhabit?
*******
Are you also doing #MicroblogMondays? Add your link below. The list will be open until Tuesday morning. Link to the post itself, not your blog URL. (Don't know what that means? Please read the three rules on this post to understand the difference between a permalink to a post and a blog's main URL.) Only personal blogs can be added to the list. I will remove any posts that are connected to businesses or are sponsored posts.