#Microblog Mondays 104: End of Summer Blues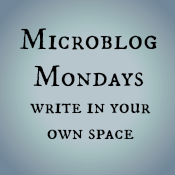 Not sure what #MicroblogMondays is? Read the inaugural post which explains the idea and how you can participate too.
*******
We're nearing the end of summer. Soon the twins will be back in school, and I'll be expected to buckle down and accomplish things. No more beach, no more pool.
I always have a hard time with endings, even when I know that summer — barring the apocalypse — will roll around again in about 9 months. Plus we have at least two beach trips planned over winter, so it's not even like I need to wait 9 months to get back to the sand. But still. You know. Summer is almost done.
I am admittedly a cold weather person. But I'm a beach person, too. It doesn't really match up, but I make it work.
Are you more a summer person or a winter person?
*******
Are you also doing #MicroblogMondays? Add your link below. The list will be open until Tuesday morning. Link to the post itself, not your blog URL. (Don't know what that means? Please read the three rules on this post to understand the difference between a permalink to a post and a blog's main URL.) Only personal blogs can be added to the list. I will remove any posts that are connected to businesses or are sponsored posts.