#Microblog Mondays 103: Events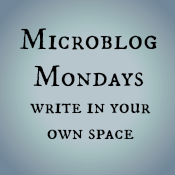 Not sure what #MicroblogMondays is? Read the inaugural post which explains the idea and how you can participate too.
*******
By the time the next Microblog Monday rolls around, the Olympics will be over. Sniff. There are still the Paralympic Games to look forward to in September, but then they'll be over and we'll have to wait 2 years again.
Remember when we used to need to wait 4 years?
We've been mostly watching anything gymnastics or swimming. Though if they ever brought back pankration, I would be all over that. I am smitten over the idea of zero rules, and all the kicking, sticking, fighting and biting one can muster in the ring. Oh, wait, just re-read the two rules and they're no biting or gouging out the opponent's eyes. So, all the kicking sticking, and fighting one can muster in the ring.
What are your favourite (still-existing) Olympic events?
*******
Are you also doing #MicroblogMondays? Add your link below. The list will be open until Tuesday morning. Link to the post itself, not your blog URL. (Don't know what that means? Please read the three rules on this post to understand the difference between a permalink to a post and a blog's main URL.) Only personal blogs can be added to the list. I will remove any posts that are connected to businesses or are sponsored posts.