#Microblog Mondays 101: Pen Pals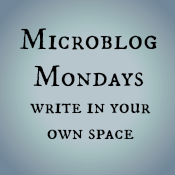 Not sure what #MicroblogMondays is? Read the inaugural post which explains the idea and how you can participate too.
*******
Speaking of letters (uh… I spoke of letters about two weeks ago), I remember having a pen pal through my elementary school. Everyone's pen pal was from a different country (though everyone wrote in English, so even if your pen pal was living in a non-English speaking country, the letters were all written in English), and the letters were sent weekly to the school so you didn't have to give out your home address. My pen pal was an Australian girl my age. We continued to write each other after that year, but it fizzled out a few months later.
When I got to college and discovered Usenet, it sort of scratched that pen pal itch because I was speaking with random people around the world. One boy (from Ballarat) and I had a standing date every day to log in at the same time and find each other on the board and chat while we worked. Blogs further removed the itch because it's like having hundreds of pen pals at once.
But every once in a while, I sort of wish I had a letter writing pen pal again. Not a friend that I speak to through other means, but someone on the other side of the world where we only communicate back and forth through letters.
I remember being so excited every time a letter arrived. I guess I also wish that I had time built into my day to be a pen pal. Not sure how sustainable it would be as an adult.
Did you have a pen pal growing up? Did you ever get to meet?
*******
Are you also doing #MicroblogMondays? Add your link below. The list will be open until Tuesday morning. Link to the post itself, not your blog URL. (Don't know what that means? Please read the three rules on this post to understand the difference between a permalink to a post and a blog's main URL.) Only personal blogs can be added to the list. I will remove any posts that are connected to businesses or are sponsored posts.