608th Friday Blog Roundup
The kids and I jumped back in the car this week and returned to the beach on our own. Josh stayed home with Truman, though the hotel staff seemed genuinely sad that we didn't bring him along and asked about him.  Truman, I mean.  Sorry, Josh.
We spent a few days eating junk food… I mean truly junk food.  Like you would be horrified if I told you what we ate for three days.  The twins swam in the ocean for six hours while I stood in thigh-high water and watched them.  We read Mockingjay aloud on the beach and browsed books in the bookstore and stayed up late each night watching Olympics.  We went biking one morning to balance out the extreme amount of junk food we ate.  (Did I mention that it was grotesque, the junk food consumption?)  We mused about what happened to the settlement at Roanoke Island and watched several families of dolphin jump out of the water while they moved across the shore.
It was really hard to leave.  We'll go back a few times this fall and winter, but the last trip of summer is always hard.  I feel so much a part of the town even though I'm an outsider.  I'm a part of it because my heart so badly wants to be a part of it.  I can visit there and get by for a bit — many of the townspeople know us by name and greet us as if we're one of them.  But they know and I know that I'm not really one of them.  They belong and I do not.  And it breaks my heart every time I have to cross over the bridge, the light bouncing off the salt marsh.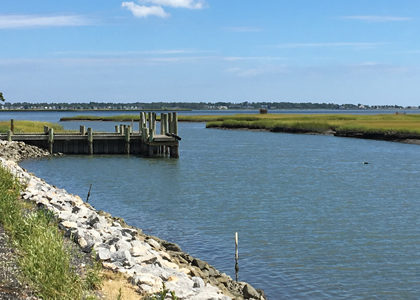 I think I'm a little down that summer is almost over.  Actually, I don't just think it.  I am.
*******
Stop procrastinating.  Go make your backups.  Don't have regrets.
Seriously.  Stop what you're doing for a moment.  It will take you fifteen minutes, tops.  But you will have peace of mind for days and days.  It's the gift to yourself that keeps on giving.
As always, add any new thoughts to the Friday Backup post and peruse new comments in order to find out about methods, plug-ins, and devices that help you quickly back up your data and accounts.
*******
And now the blogs…
But first, second helpings of the posts that appeared in the open comment thread last week.  In order to read the description before clicking over, please return to the open thread:
Okay, now my choices this week.
Laughing IS Conceivable has a funny (and true) post about trying to talk to an infertile woman.  I laughed aloud with this: "I, for one, was always a ticking emotional time bomb. The only times I wasn't ticking was when I actually exploded all over somebody. Then I reset the timer."  Go over and read the whole thing.
Empty Arms, Broken Heart has a post about following bloggers' stories that summed up what I love about blogs, this community, and the wistfulness I feel when a name pops up who hasn't posted in a while and I wonder how they are.  She writes, "Parenting after infertility is a unique voice. Those who stick around know there is always more to tell. And I look forward to following along."
Lastly, Magpie Musings has an important post about the idea of going to funerals.  Why you should go, and when you can't go, send a condolence card.  She writes, "Honestly – get out a card, or your good writing paper, and a pen, and write two or five sentences, and put it in the mail with a live stamp on it. It is the least that you can do, and in my book, it's acceptable if you have never met your imaginary friend's father or your casual acquaintance's sister."  It's one of those posts that I will always think about when I hear that someone has died.  Because she's right.  Go to the funeral or send the card.
The roundup to the Roundup: Last beach trip of the summer.  Your weekly backup nudge.  And lots of great posts to read.  So what did you find this week?  Please use a permalink to the blog post (written between August 12th and 19th) and not the blog's main url. Not understanding why I'm asking you what you found this week?  Read the original open thread post here.