My Love-Pig
Truman hasn't improved, so the vet moved up his follow-up appointment.  He has been eating double the amount he eats on any given day, but he has lost weight.  His legs are still paralyzed.  His eyes are crusty because he can't clean his face; doing so would mean balancing on his hind legs to use his front paws, and he can't do that at the moment.
When she saw him, she gently told me that we should consider euthanasia.  This was my greatest fear; not just losing him but having to make the decision to lose him.  It was one thing when it was Cozy and his eyes were outside his skull — he was clearly in pain.  But Truman is still himself, albeit dragging his legs and very thin.
The other option was to go and see another vet for a second opinion.  I didn't know if I wanted to go down that road simply because I know myself.  If that vet didn't tell me what I wanted to hear, I would start going to another and another and another.  But our vet gently told me that the person she was recommending was a guinea pig specialist, and if she said that it was cancer, it was cancer.
So I took Truman to the second vet.  The vet was busy but was willing to squeeze him in between appointments as a favour for our vet.  But it meant leaving him there for a few hours so she could slip him in whenever she had time.  It meant going home and sitting in our quiet house, totally alone, worrying that I'd never see him again.
The other vet called in the late afternoon to go over options with me.  Without doing many more tests, she didn't know what was wrong with Truman.  It could be his enlarged heart, it could be a clot, it could be a disc injury, an infection, cancer.  What did we want to do?  Did we want to be super aggressive, possibly losing him in trying to figure out how to help him?  Did we want to euthanize him since it was very unlikely he would ever move again.  She agreed that he was still his spunky self, and she admitted that she had never seen a guinea pig with a better personality.  (At our normal vet, all the techs came out to give him a head scratch before we left, and Truman lapped up all the massages and purred with his eyes closed in bliss.  He is such a love-pig.)  We didn't have to decide to euthanize today, but we needed to know what we were willing to do.
She asked me to consider any possible regrets.  She wanted me to make a decision that helped me stave off any what ifs.
But here's the thing; there is no amount anyone could ever do that would feel like "enough."  I would always second-guess if there was a step we could have done at some point; something that would make the difference.  There was nothing she was going to do right now that would stop that from happening.
Euthanasia is meant to be a good death.  If it has to happen, then I want him to be home for his remaining time.  I want him to be eating as many cookies as he wants, and getting back rubs and tons of hay and long leaves of lettuce.  I want him to spend whatever remaining days he has left knowing without a doubt that we love him so much.  That he is an integral part of our family, and we will do whatever we need to do to make him comfortable and safe and cared for.  I don't want him to be scared or alone or in pain or in an unfamiliar place.
So we brought him home.  The second vet prescribed a pain medication and told us what to look out for so we would know when it was time to bring him back.  This could go on for days or weeks or maybe months.
When we got home, I gave him dinner and his medications.  And then we gave him a bath.  He swam around the bathtub, doing laps, his legs trailing behind him.  It was the first time in days that he has moved around.  Afterward I swaddled him and then blew his fur dry with a hairdryer.
He is currently next to me, chowing down on his pellets in between hopefully nosing his purple food dish to check if I've magically slipped in something delicious.  In other words, he is himself.
I don't know how much more I'll write about Truman, though I'll post an update from time to time.  It is really hard to talk about him now.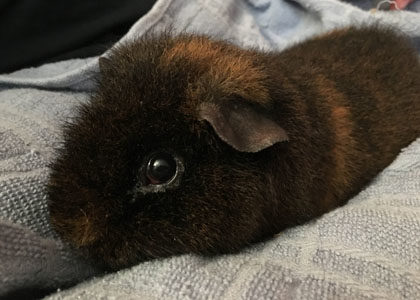 My sweet piggy boy