#Microblog Mondays 99: Epistles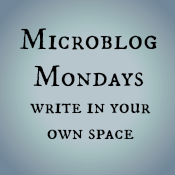 Not sure what #MicroblogMondays is? Read the inaugural post which explains the idea and how you can participate too.
*******
A friend is in a place for the next month where it will be difficult to reach her via phone and impossible to reach her to via email (no cellular service), but she can receive letters. So I dragged out the stationery after she left and started writing. And discovered I had forgotten how to write letters!
The first two were awful, rambling messes. The paragraphs didn't fit together. I felt embarrassed sending them.
By the third one, I got comfortable using pen and paper again. All the paragraphs fit together, retelling stories from the weekend. Letter writing skills refound.
It has been nice to start my day several times a week sitting down and writing her a letter at my desk before turning on the computer. Part of me wants to continue it even after she comes home.
Do you regularly write letters?
*******
Are you also doing #MicroblogMondays? Add your link below. The list will be open until Tuesday morning. Link to the post itself, not your blog URL. (Don't know what that means? Please read the three rules on this post to understand the difference between a permalink to a post and a blog's main URL.) Only personal blogs can be added to the list. I will remove any posts that are connected to businesses or are sponsored posts.