#Microblog Mondays 98: Haircut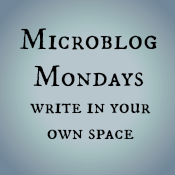 Not sure what #MicroblogMondays is? Read the inaugural post which explains the idea and how you can participate too.
*******
The ChickieNob and I hauled ourselves over to the hairdresser for our annual haircut.
Every time I go, she tries to sell me on the expensive shampoo they carry at the salon. I am thinking about getting a t-shirt printed that says, "I use shampoo from the drugstore, and you've already expressed your disgust at it during the last visit." Though this time she said, "I remember that you think your grey hair is a pretty colour, so I am not going to tell you change that."
Small victories.
She really does do a great job with the cut, hence why I keep going back to her. She also gets me in and out of the salon in under 15 minutes (including hair washing).
I dread haircuts because I don't like strangers touching me. I find things like manicures or haircuts very stressful. I let her go a little shorter than I wanted just so I wouldn't have to see her again for a long time.
Do you enjoy getting haircuts (or manicures or other pampering services) or do you also find them a dreaded item on your to-do list?
*******
Are you also doing #MicroblogMondays? Add your link below. The list will be open until Tuesday morning. Link to the post itself, not your blog URL. (Don't know what that means? Please read the three rules on this post to understand the difference between a permalink to a post and a blog's main URL.) Only personal blogs can be added to the list. I will remove any posts that are connected to businesses or are sponsored posts.