#Microblog Mondays 97: Independence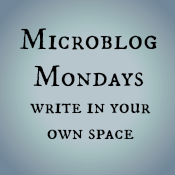 Not sure what #MicroblogMondays is? Read the inaugural post which explains the idea and how you can participate too.
*******
Today is Independence Day in the US. Election years push the whole concept of government and political issues and red, white and blue to the foreground, so this Independence Day feels a little less popsicle-y and more a reminder of all the work ahead.
I know it feels overwhelming. I know things feel broken. I know it sounds really loud right now.
But to quote Hamilton, "Winning was easy, young man. Governing's harder." And sure, Washington says that in retrospect; the after always feels easier than the moments ahead of you. Governing is hard work. We can do it, of course, we've been doing it for 241 years since the Declaration of Independence. But, damn, it is hard.
What are you doing to mark the day if you live in (or are from) the US?
*******
Are you also doing #MicroblogMondays? Add your link below. The list will be open until Tuesday morning. Link to the post itself, not your blog URL. (Don't know what that means? Please read the three rules on this post to understand the difference between a permalink to a post and a blog's main URL.) Only personal blogs can be added to the list. I will remove any posts that are connected to businesses or are sponsored posts.